Introducing Ambition Institute's Early Career Teachers' Programme
We are pleased to announce that we are partnering with education charity Ambition Institute to deliver ECF-based training and support: the Early Career Teachers' Programme. This Department for Education-funded programme is designed to develop the knowledge and skills of early career teachers.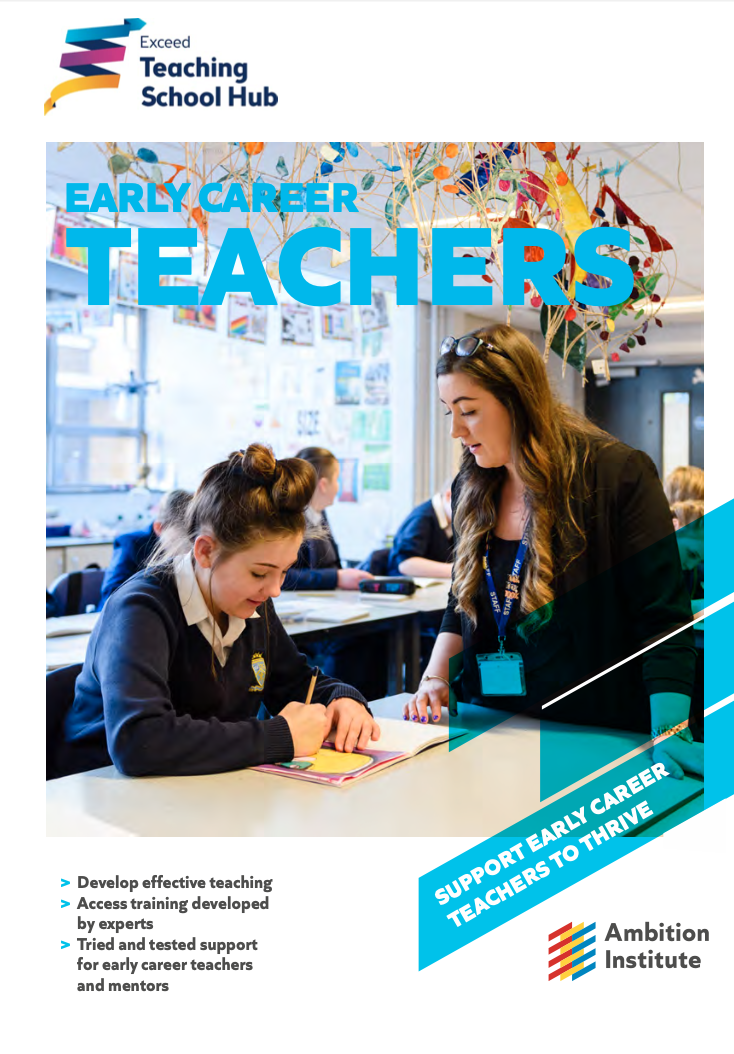 Those doing the training will learn:
The content of the early career framework, including behaviour, instruction, curriculum assessment and self-regulation
What effective teaching looks like, putting them on the path to becoming an expert in teaching
How to keep getting better, so they can continue to improve in their careers.
Benefits to your school include:
Improved wellbeing and job satisfaction of ECTs
Attract and retain staff
A two-year package of support
The programme is delivered by our highly trained and skilled Visiting Fellows; teachers and leaders from our school-based delivery partners.
Why us?
Why this programme?
With retention an issue across the education sector, investment in teachers' development has never been more important, especially for those who are just starting out. This brand new, Department for Education-funded programme builds on the thinking behind the Early Career Framework to help educators early in their careers develop expertise, and improve wellbeing and job satisfaction.
You can download Ambition Institute's Expert Edit publication now for more information about the Early Career Framework and how our Early Career Teachers programme can support your NQTs.
Retain your staff
Provide the quality professional development and mentoring that new teachers need to consolidate and become effective and satisfied in their roles, and stay in the profession.
Cutting edge insight
Give your early career teachers and mentors access to the best available evidence, alongside internationally-recognised effective practice from around the world.
Curriculum
The Early Career Teachers' Programme is a blended learning experience. It provides teachers and their mentors with high quality, evidence-informed training and materials, alongside scaffolding to ensure effective mentoring.
What participants learn:
All the 'learn that' and 'learn how to' content of the Early Career Framework, including behaviour, instruction, curriculum, assessment and self-regulation.
What effective teaching looks like, through specific examples and explanations of how and why this practice works. This will help early career teachers develop expertise in teaching
How to keep getting better, so they can continue to improve and thrive during their career.
How participants learn:
A carefully designed combination of face-to-face training, virtual peer-learning groups, expert-led webinars and weekly video tutorials. These all sit alongside support for effective mentoring.
All content is designed and delivered by experts in teacher education, drawing upon the best available evidence in how teachers learn.
Programme components have been designed intentionally to fit with the demands of schools and the busy lives of teachers. This keeps travel and cover requirements to a minimum, and provides online learning that can be undertaken at any time, in any place, on any device.
Precise programme content will evolve as the evidence base develops.
The Early Career Framework and the opportunities it provides to new teachers is a game changer for the sector. We're really excited to be part of the team delivering this new entitlement for Early Career Teachers and their mentors.
- Marie Hamer, Design and Teaching, Executive Director Learning, Ambition Institute
Cost
The Early Career Teachers' Programme is funded by the Department for Education.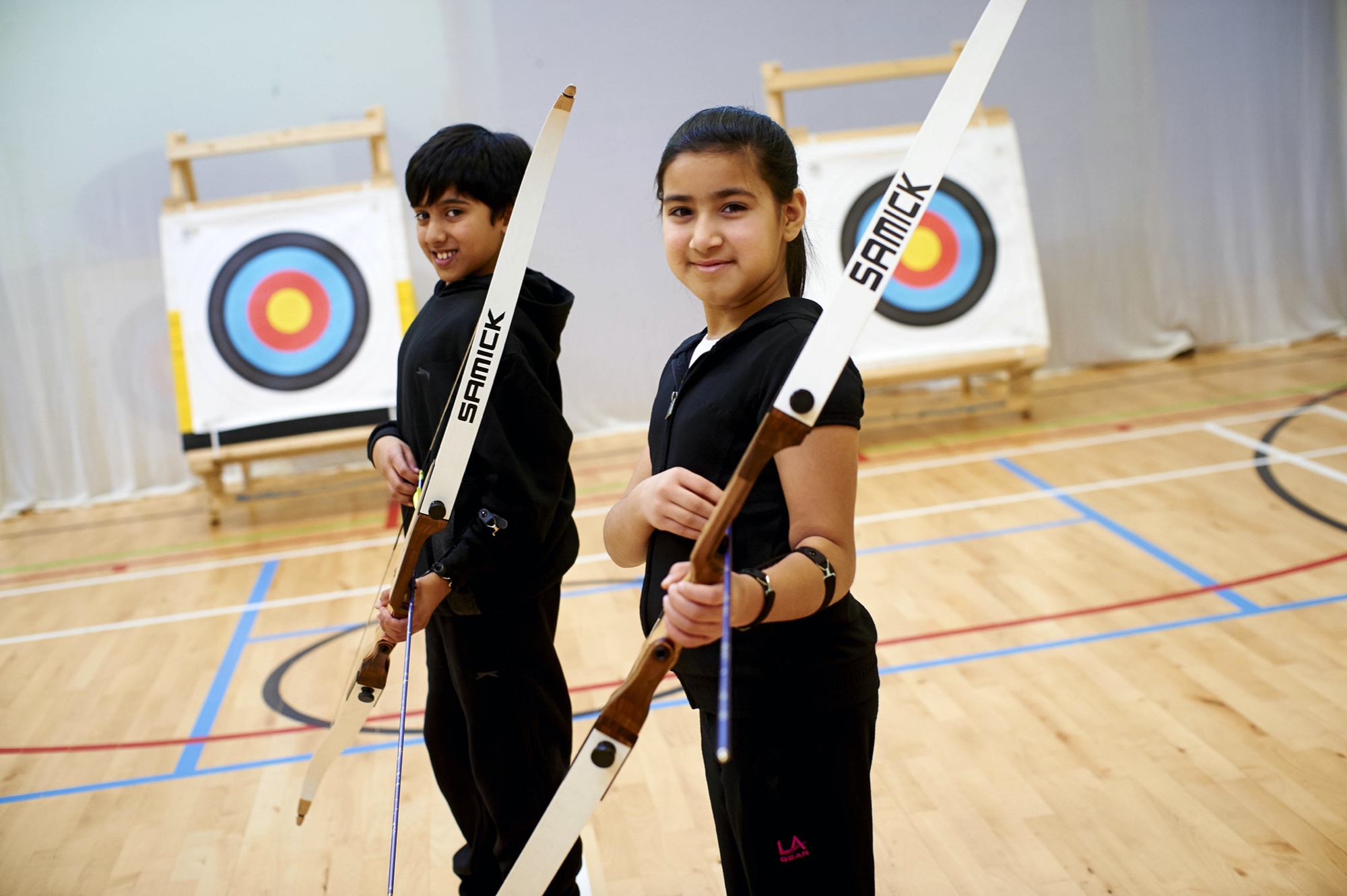 Register for the Early Career Teachers' Programme
Click here to begin registering your Early Career Teacher, Mentor and Induction Lead
Double Click To Change The Link
More detailed information about the Early Career Teachers' Programme is available here:
Principles of the programme
The programme draws on the best available evidence, alongside the ECF, to help craft a set of experiences that will help ECTs keep getting better during this critical period in their career. Key features of the mastery programme include:
Regular, bite-sized learning: Evidence from the science of learning suggests that we can only focus on a few things at once and that we tend to forget a lot of what we learn, especially when it is organised into one big block (Sweller, 2016). There is more chance of making progress when our learning is spread out and part of a regular, frequent routine.
Examples of classroom practice: Understanding the theory is important but it's also critical that teachers and mentors get to see what this looks like in practice (Rosenshine, 2012; Sweller, van Merrienboer & Paas, 1998). As part of our materials, we include videos of what the ECF looks like in a variety of classroom settings.
Practice makes permanent: If we are to change the outcomes and life chances of our pupils, we must change how teachers teach. Sustained changes in teaching generally occur only if we keep practising those changes (Deans for Impact, 2016). This programme puts practice at the heart of teacher learning.
Familiar routines: The life of an early career teacher is full-on. To ensure this programme doesn't add unnecessary complexity, we have designed it around a set of simple, repeating professional development patterns. This means everyone can spend less time thinking about the process and more time thinking about great teaching.
To make the most of this programme we recommend you:
Tailor it to your context: We have designed a comprehensive programme but also one that should be able to flex quite a lot and still deliver (Cordingley et al., 2015). If you consistently study and get coached on powerful ideas, improvement will follow. When and how you apply your knowledge matters much less. Flexibility with the ECF curriculum should be utilised to aid the development of the ECT remembering the ECF is their entitlement. Weekly mentor meetings must take place.
Go with it: It may not always be clear why a certain topic is in a certain place on the programme. However, we have thought carefully about the sequencing to ensure you come across the right ideas at the best times and revisit them lots to ensure they take hold (Dunlosky et al., 2013).
Programme design
You will find it helpful to download the following resource prepared by Bradford Teaching School Hub as you read the next section:
The sequence

Please rotate if viewing on a mobile device.
The programmes strands: Behaviour (autumn term); Instruction/pedagogy (spring term); and Subject/curriculum (summer term). These largely go from simple to complex as the ECT progress through the strand during the term. Likewise, the ordering of the strands themselves goes from concrete (for example an entry routine) to abstract (for example the types of knowledge pupils need to learn).
The sequence is intended to be worked through in order. It has been designed to allow for roughly a one-hour weekly meeting in the first year. In the second year, mentor meetings should occur roughly once every fortnight. Given the differing needs of the teacher and the range of complexity of the module's content, time spent mentoring might slightly vary from week to week.
Coverage of the ECF happens across multiple modules
The programme refers back to concepts repeatedly. As a result, all of the 'learn that' or 'learn how to' statements are rarely covered in full during any one week. For example, a week might have a focus on 1.3 from the Early Career Framework:
1.3 Teacher expectations can affect pupil outcomes; setting goals that challenge and stretch pupils is essential.
This concept won't be learned in just one week – it will need to be returned to multiple times and from multiple different perspectives to really become embedded. The modules are structured to achieve this.
Modules are the combination of multiple contributing pieces
Every module has several different pieces, including:
An evidence summary provides a concise overview of the research relating to the module.
A quiz and reflection enable mentors and NQTs to consider the evidence in light of their knowledge and experiences.
A video that shows what the module looks like in practice.
Weekly instructional coaching draws on this material and tailors the weekly focus to the specific context and needs of the teacher.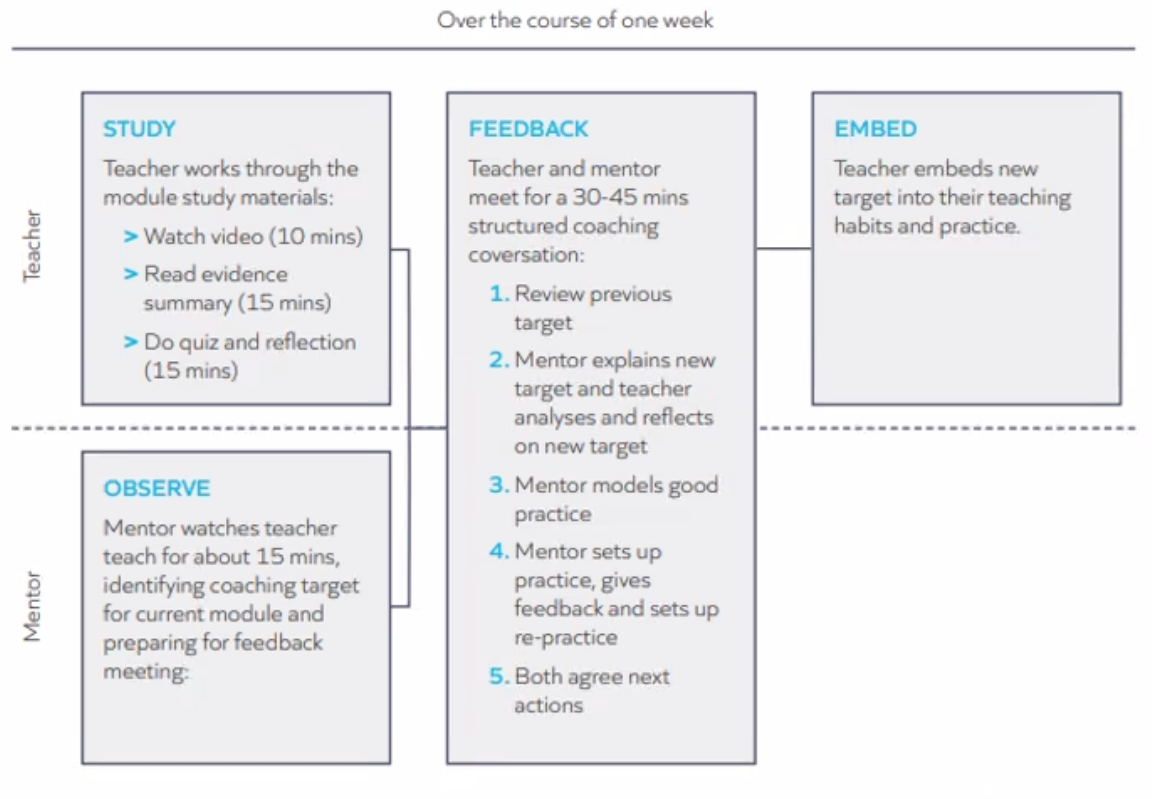 Please rotate if viewing on a mobile device.
Sample the resources
The early roll-out Core Induction Programme materials can be accessed here to provide an example of the type of resources ECTs and mentors will engage with.
N.B. These resources will not be publicly available from summer 2021. The DfE will move these to a password-protected portal.
Bridging the 'know it/do it' gap
The programme aims to ensure teachers are able to acquire all the 'learn that' and 'learn how to' statements from the Early Career Framework. To ensure that the 'learn how to' statements are embedded into practice, our weekly modules are organised by practical, coachable classroom development areas.
The evidence summary by itself might not include all the ECF 'learn that' and 'learn how to' statements for the module. Only when combined do these pieces cover all the module outcomes.
As a rough rule of thumb, the 'learn that' statements are primarily covered in the evidence summaries and the 'learn how to' statements in the videos and coaching sessions.
Make sense clinics and conferences
Conferences are, wherever possible, face-to-face professional development events.
Some content will be covered directly in clinics and conferences only because it involves increased contextualisation or isn't directly observable in everyday teaching. For example:
Teacher workload
Pupil wellbeing
Working with parents & carers
Additionally, our weekly modules need to be suitable for every teacher in every context, in every week of teaching. This means that in some school contexts, some content isn't as easily seen during an observation. Even where some of these concepts are observable, in some instances it isn't always appropriate to select a precise target for that area. These include concepts such as:
SEND
Working with TAs
Early literacy
Where relevant, mentors will be encouraged to include content from clinics and conferences in their coaching conversations. For example, when talking about working on subject knowledge with an Early Years teacher, it is entirely appropriate to set a precise target to do with early literacy. Likewise, because support for all pupils (including those with special educational needs and disabilities) will run throughout the programme, targets are not just appropriate but expected, depending on the needs of the classroom and the teacher.
Clinics and conferences are an important part of the experience. Consider how you might support your teacher to contextualise their learning for your unique context. Likewise, help your mentor to see how they might include additional content into their coaching.
Roles and mentor training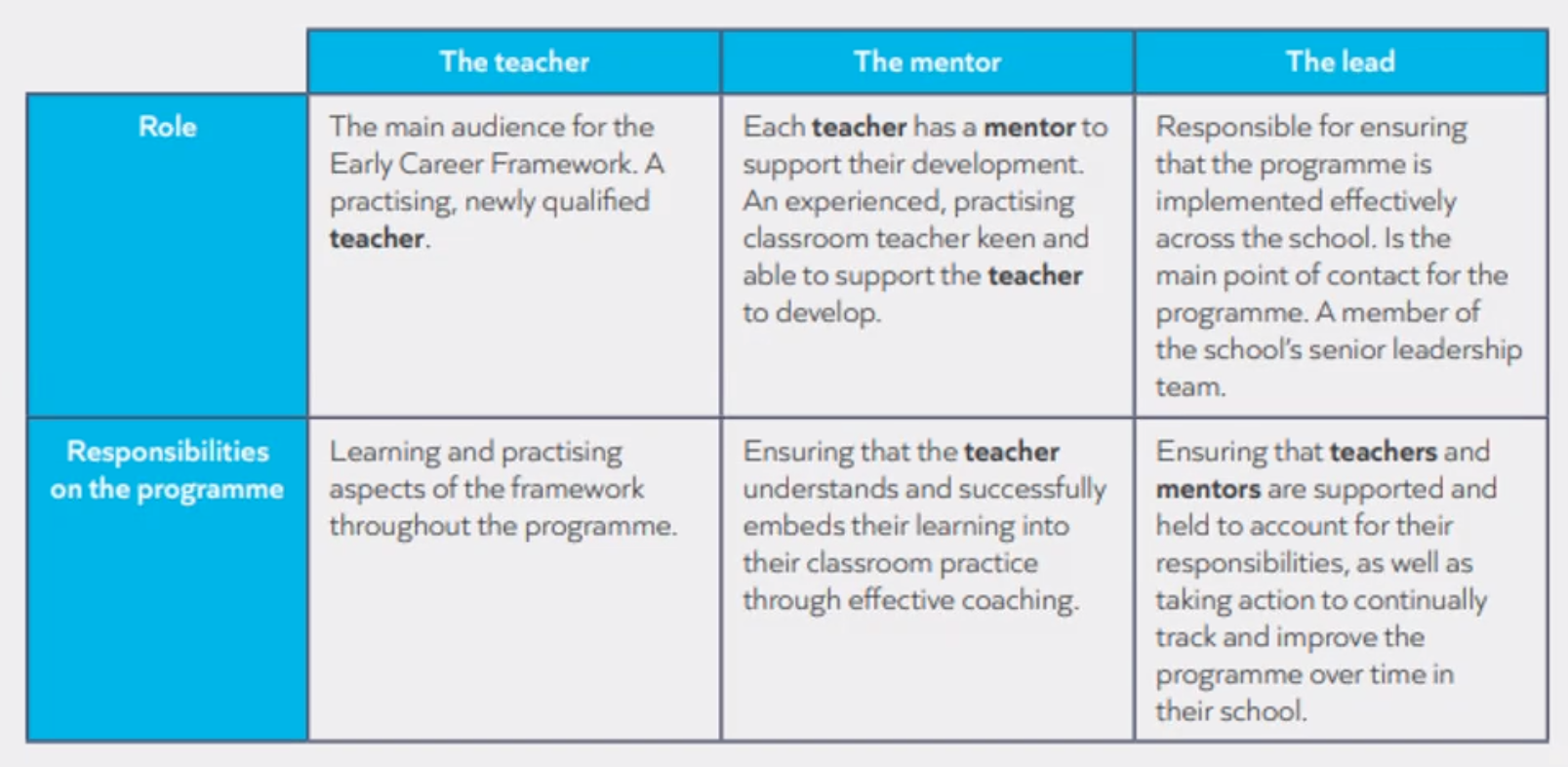 Please rotate if viewing on a mobile device.
Induction Lead/Coordinator/Tutor
The induction lead is responsible for ensuring all ECTs get their entitlement and the assessment of the ECT against the Teaching Standards. The assessment remit should be separate from the mentoring role. The ECF programme accommodates a purposeful pause in delivery at the time assessments (once per year) are being made.
Mentor training
It isn't just the ECT that the programme invests in. It recognises the importance of mentors and a programme of training is provided for these experienced teachers and leaders to help them engage with research, develop their skills and confidence for the role and impact more widely on their school.
Mentors engage in:
A conference before ECF delivery commences, usually in June or July
A conference at the end of the ECTs first year of induction
Three mentor peer learning groups - two in the first year of the ECTs induction and one in the second - to allow you to network with colleagues undertaking your role in other schools. This is a great opportunity to share successes and challenges and explore how others have addressed them
Three 1:1 coaching on coaching sessions to support you to develop your mentoring skills
By acting as a mentor you access the same research summaries and videos as your ECT. This is great CPD for you as well as your ECT; you may wish to disseminate aspects of this to your colleagues in school

Please rotate if viewing on a mobile device.
Steplab
Steplab is the online tool that supports early career teachers and mentors to engage with the ECF Full Induction Programme. Here's a brief demo; we'll support ECTs and mentors to engage with the tool via our offer.
Further guidance
Details are published online by DfE, including the financial arrangements for schools.
The University of Central London (UCL) have developed generic guidance for schools and trust to consider to help prepare for the introduction of the ECF.