Introducing the Early Career Teachers programme
We're pleased to announce that we are partnering with education charity Ambition Institute to deliver our induction programme, Early Career Teachers. This Department for Education-funded programme is designed to develop the knowledge and skills of early career teachers.
Those doing the training will learn: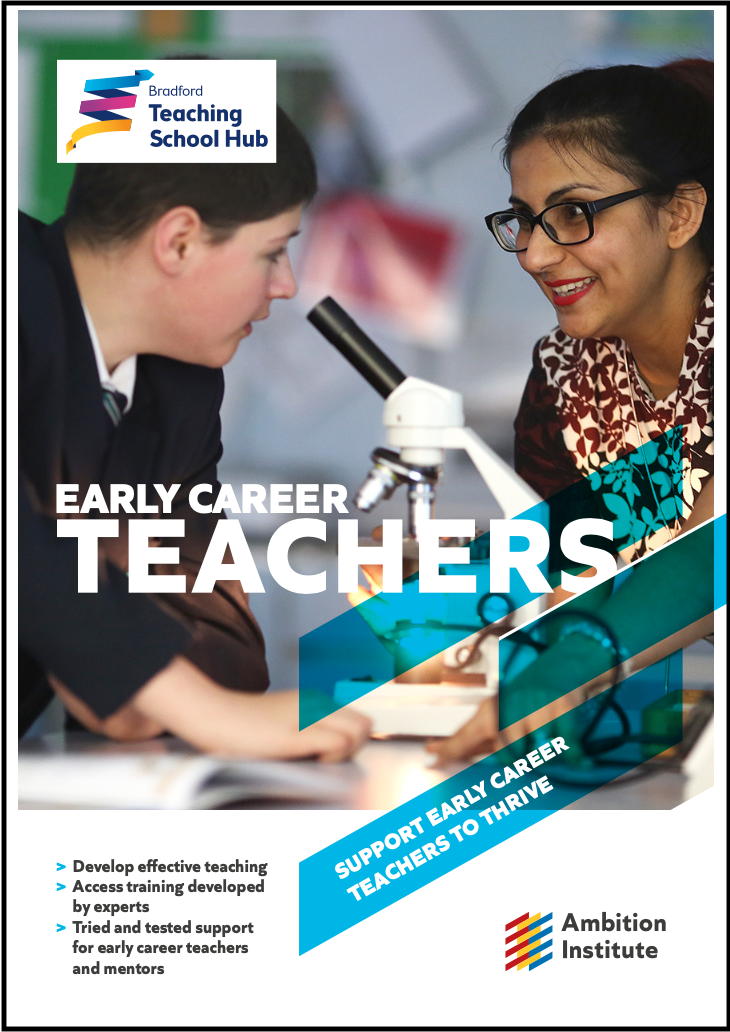 The content of the early career framework, including behaviour, instruction, curriculum assessment and self-regulation
What effective teaching looks like, putting them on the path to becoming an expert in teaching
How to keep getting better, so they can continue to improve in their careers.
Benefits to your school include:
Improved wellbeing and job satisfaction of NQTs
Attract and retain staff
A two-year package of support
The programme is delivered by our highly trained and skilled Visiting Fellows; teachers and leaders from our school-based delivery partners.
More detailed information about the Early Career Teachers programme is available here:
Appropriate Body for early career teacher induction
From September 2021, induction becomes a two-year process. Schools will need to select a rigorous and robust Appropriate Body (AB) to quality assure the induction and assessment of their ECT. In light of the changes, schools should seek to commission the services of an AB that offers more than the minimum requirements. The alignment of the AB service and ECF delivery will be an advantage that teaching schools hubs can offer. Details on Exceed Teaching School Hub's school-led AB service are available here.
Schools should be familiar with Induction for early career teachers (England): Statutory guidance for appropriate bodies, headteachers, school staff and governing bodies (March 2021). This guidance includes:
information on the role of appropriate bodies
ways in which appropriate bodies can prepare for the changes to statutory induction
example forms to help appropriate bodies ensure early career teachers are receiving their statutory entitlements
Appropriate bodies will have a role in checking that early career teachers are receiving a programme of support and training based on the ECF. This will be alongside their current role ensuring that new teachers receive their statutory entitlements and are fairly and consistently assessed.
Schools who choose to deliver their own induction programmes, whether using Department for Education (DfE) accredited materials or the ECF itself, will need to provide information to their appropriate body to demonstrate that their programme fulfils statutory requirements. Schools should contact their appropriate body for further details of what will be required in the summer term. This will not be required of schools that use a provider-led programme (Full Induction Programme (FIP)).
Details of the Exceed Teaching School Hub Appropriate Body service are available here: