Physical activity (PE and Sport)
"A high-quality physical education curriculum inspires all pupils to succeed and excel in competitive sport and other physically-demanding activities. It should provide opportunities for pupils to become physically confident in a way which supports their health and fitness. Opportunities to compete in sport and other activities build character and help to embed values such as fairness and respect."

National Curriculum in England: PE Programmes of StudY
The Creating Active Schools (CAS) Framework
The Creating Active Schools Framework (video, paper;) was developed by 50 regional, national and international stakeholders who understand the many factors that need to be addressed within a school to ensure organisational change for physical activity. The supporting Creating Active Schools Development Programme, uses evidence-based research and practice to support schools address the following key factors:
Whole school policy and improvement in relation to physical activity;
Environment;
Key stakeholders; and
Physical activity opportunities provided to children across the school day and beyond.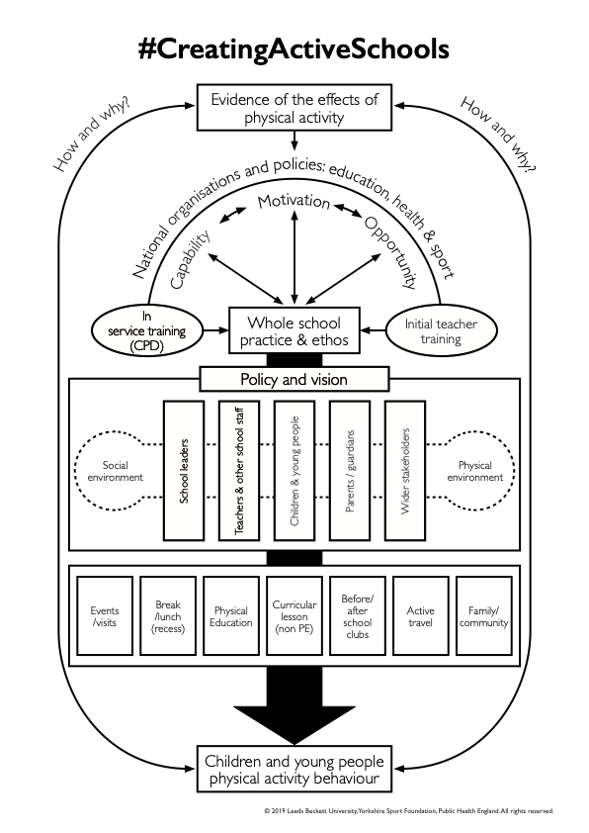 The framework is currently being used by a number of schools through the JU:MP programme (see below).
If you are interested in becoming involved in this work or using the framework to support the development of whole-school physical activity initiatives in your school, please refer to the sections below or contact Ian Holmes.
JU:MP
Bradford is one of 12 Local Delivery Pilots (LDPs) across the country, funded by the National Lottery through Sport England who are aiming to better understand what helps people to be active in their communities. Sport England are investing up to £8 million of Lottery Investment in the JU:MP programme over the next five years to evaluate the impact of taking a whole systems approach to physical activity. Born in Bradford, a research programme hosted by Bradford Teaching Hospitals NHS Foundation Trust, are leading the pilot on behalf of Active Bradford.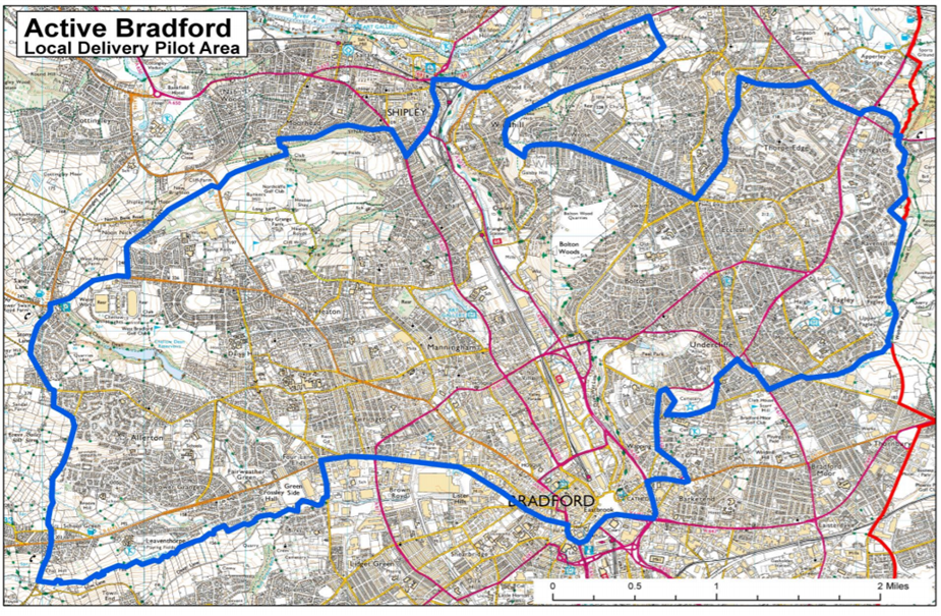 Living Well Schools
This programme will be launched in 2021/22 and will provide free support and toolkits to schools in how they support children in the following areas:
Physical activity
Mental health
Nutrition
Relationships, Sex and Health Education
Other wellbeing areas to be co-developed with schools based on need
Consultations with schools on the development of this offer will take place in Spring/Summer 2021, but in the meantime please see our website which currently focuses on adults in Bradford for insight into the range of solutions that may be on offer from Living Well Schools from 2021/22.
Association for Physical Education
The Association state:
The Association for Physical Education is the only Subject Association for PE in the UK.
We are committed to being the representative agency of choice for people and organisations delivering or supporting the delivery of physical education, school sport and physical activity in educational contexts and in the wider community.