How can we use talk and collaboration in our classrooms to support learning?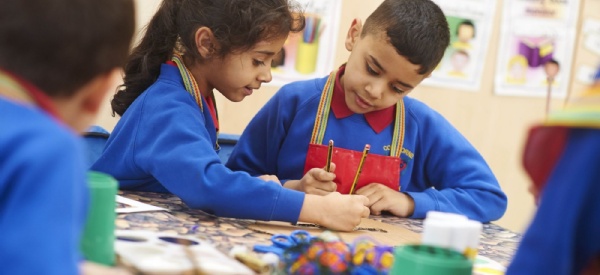 A collaborative learning approach is based around the principle that children learn from working together on activities or learning tasks in a group where everyone can participate. Pupils in the group may work on separate tasks contributing to a common overall outcome, or work together on a shared task.
Why is collaborative learning important?
Effective collaborative learning has a number of key advantages that support learning. As children are able to contribute to discussions and share their own ideas, it can raise self-esteem and help children to feel included. It can also reduce anxiety as there is a collective responsibility for the outcomes of the group. Furthermore, it can support children to develop their interpersonal skills as they have to work together to reach a common goal. In addition to this, it allows children to listen to and evaluate ideas that might be different from their own and may help them to gain a broader experience of a topic.
Collaborative learning is a way of encouraging and developing Talk in the classroom. Through communicating with each other around a topic, putting thoughts into words, children are more likely to remember the learning that has taken place. Children can consolidate understanding by explaining their thoughts and internalise a new understanding by listening to others.
How secure is the evidence?
Over 40 years, a number of systematic reviews and meta-analyses have provided consistent evidence about the benefits of collaborative learning. In addition to direct evidence from research into collaborative approaches, there is also indirect evidence that has shown that collaboration can increase the effectiveness of other approaches such as Mastery Learning, Talk for Learning or Digital technology. Collaborative learning appears to work well for all ages if activities are suitably structured for learners' capabilities and positive evidence has been found across the curriculum. (Information provided by the Educational Endowment Foundation)
What strategies can we use to encourage our children to learn collaboratively?
Establish group goals. Effective collaborative learning involves clear group goals. This keeps the group on task and establishes an unambiguous purpose for what they are doing. Before beginning an activity, it is best to define goals and objectives to save time.
Use medium-sized groups. Small groups of 3 or less may lack enough diversity and may not allow as many different ideas and points of view. Groups that are too large may discourage everyone from participating. A group size of 4-5 is ideal.
Promote open communication. Children will learn better if they are allowed to say what they think in an open forum within their group. The children should be encouraged to explain their ideas thoroughly to each other so that everyone's opinion is valued. Diversity should be valued and this should be modelled to the children.
Create group roles. By assigning the children their own role, it gives them ownership of that role and a purpose within the group. This is a good strategy for larger tasks and encourages children to listen to each other's results. This could include 'Experts' that feedback to the rest of the group. The students might have turns to choose their own role and alternate roles.
Model different ways of interacting. Children will not immediately know how to function in a group and what a meaningful interaction looks like. It is important to model this to the children. Ways of interacting include: initiating discussions, clarifying points, summarising, challenging assumptions, reaching a consensus, time-keeping, compromising, encouraging, relieving tension and bringing people into the conversation.
Bibliography
Alexander, R.J. (2017) Towards Dialogic Teaching: rethinking classroom talk (5th edition), Dialogos.
Alexander, R.J. (2008) Essays on Pedagogy, Routledge, especially pp 72-172 and 184-191
Johnson, David W, R. Johnson, and E. Holubec. (1990) Circles of Learning: Cooperation in the Classroom. Edina, MN: Interaction Book Company.
Whitman, N. (1988) Peer Teaching: To Teach is to Learn Twice. ASHE-ERIC Higher Education Report No.4. Washington, DC: ERIC Clearinghouse on Higher Education.
Vygotsky, L.S. (1978) Mind in Society: The development of higher psychological processes. Cambridge, MA: Harvard University Press.
Vygotsky, L.S. (1962). Thought and Language. Cambridge, MA: MIT Press. (Original work published in 1934).