What can we do to help narrow the vocabulary gap in our classrooms?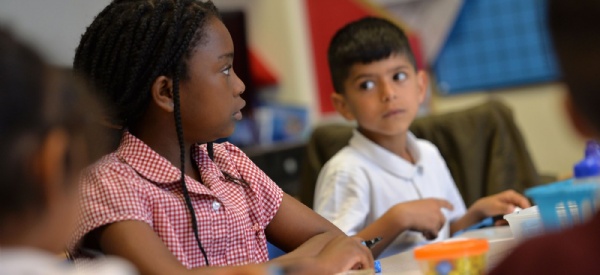 There has been a wealth of educational research over recent years regarding the gap in vocabulary that many children face: this particularly effects children from lower income families and those with English as an additional language (Mandy J. Maguire, et. Al 2018). Research suggests that the challenges start early on in a child's development and that by the age of three, there is a 30-million-word gap between children from the wealthiest and poorest families.
A study by Fernald, Marchman, & Weisleder 2013 showed that the vocabulary gap is evident in toddlers: By 18 months, children in different socio-economic groups display dramatic differences in their vocabularies. Even at two years of age, the disparity in vocabulary development is significant. By the time children arrive in our schools, they are already at a disadvantage.
You can watch a video of the study here: An Experiment by Anne Fernald: Efficiency in Processing Language www.youtube.com/watch?v=I7HN5LJOc-w&feature=youtu.be.
In recent years, the gap in vocabulary has been highlighted even further through the changes to the testing at the end of KS2. In the 2017 KS2 SATs 20% of questions centred around understanding vocabulary in context (Shareen Mayers 2017). And with such a large emphasis and weight attached to KS2 attainment, it is clear that we need to put more in place to help our children succeed.
There are many possible reasons for this gap. For example: lack of resources at home, test bias, parents that work full time/ childcare. Poverty can take away several opportunities from the children we serve. However, while as educators we can do little about the social-economic factors that affect the families in our school community, there is growing evidence to suggest that there is a lot that can be done in the classroom to address this gap in vocabulary. By teaching and introducing more vocabulary in the curriculum, progress can be made, and it is possible to close this gap. A year 5 child who is a free reader will encounter approximately 1 million words throughout the year, 20,000 of which are likely to be unfamiliar (Oakhill et. al. 2015). But what can we do in our classrooms to help us bridge the gap and enable the children in our schools to decode and add these words to their vocabulary?
Alex Quigley: Closing the vocabulary gap
Recently, I have been reading 'Closing the vocabulary gap' (Alex Quigley). Attached to this article are several resources that can be found on his website covering:
7 strategies for Exploring unfamiliar vocabulary.
Guidance for finding and introducing new vocabulary.
An article outlining how we can help our children to speak and write more academically
Some practical advice for how vocabulary can be taught in school
From this book, I have listed 5 things that we can do straight away in our schools to try and address this gap.
Talk like a specialist
Introduce the children to new vocabulary by using the technical vocabulary associated with the topic that they are learning! Repeat things that they say, replacing words with technical vocabulary, scaffolding their understanding of new words.
When possible, explore the root of words
Foster deep vocabulary knowledge (this can work especially in science) by looking at sounds that relate or link particular words. For example: the word 'optic' is the root of optical and optics. This relates to looking or seeing. Or the word 'psyche', which is the root word for 'psychological' or 'psychosis'. This relates to how the brain works.
Word building (using prefixes and suffixes)
We can help the children in our classes develop 'word consciousness' by explicitly teaching prefixes and suffixes. Using common prefixes like 'un', 're' and 'dis' can encourage a fun and creative engagement with words that proves a handy strategy for when children encounter new and complex words.
Encouraging Debate
In class talk activities can be very effective: By using 'Talk for Learning' strategies, using sentence stems and vocabulary lists, we can set up debates that help extend and explore vocabulary choices. Debating and talking aloud using a range of vocabulary can help embed language being discussed in class.
Use new learned vocabulary in context
It is a good strategy to teach new vocabulary individually and strategies such as 'words of the week' can be effective to introduce the children in our classes to a range of new vocabulary. However, it is then important for the children to use that vocabulary within their lessons to embed it. It is a good idea therefore for the words to be linked to the topic that you are covering or to your next writing activity.
Education Endowment Foundation: Improving Literacy in KS2
Research carried out by the Education Endowment Foundation (EEF) in 2017 made 7 key recommendations for KS2 literacy. The first of which refers to reading and language acquisition. To read about the others, follow this link: https://tinyurl.com/EEFLiteracyBlog
Develop pupils' language capability to support their reading and writing
The recommendation by the EEF is based on extensive evidence from nine meta-analyses that include studies of pupils aged 7-11. These studies examine a range of areas related to speaking and listening skills, and a range of outcomes including reading and writing.
The report found that speaking and listening skills has a profound effect on the acquisition of new vocabulary and that considering this, it suggests two separate approaches to developing vocabulary, which are:
Explicit teaching of new vocabulary
Exposure to a rich language environment with opportunities to hear and confidently experiment with new words
It also outlines 5 key points to be considered:
Repeated exposure to new vocabulary is necessary across spoken language, reading and writing
Pre-teaching and discussing new words can support reading comprehension
Pupils should learn both new words and how to use familiar words in new contexts
Vocabulary learning should entail active engagement in learning tasks
Digital technology can be used to help develop and teach vocabulary
What practical strategies can we use to close the vocabulary gap?
Whole class reading: This is often considered a strategy for younger children, however, as the evidence suggests that continued exposure is key to extending and developing vocabulary, there is a place for reading aloud across all key stages. This also allows the children to ask what unfamiliar words mean and gives you the opportunity to model correct pronunciation. In addition to this, it allows reluctant readers to engage more in a text and helps them access vocabulary that might usually be challenging for them in its written form. By structuring your English unit around a whole class text, it offers the opportunity to use and apply new learned vocabulary, which in turn reinforces this vocabulary.
Words of the Week: Introducing new vocabulary weekly, which is linked to topics being covered in class is a good way to expose children to a range of new words. If this is coupled with other strategies to learn new words, it can be a powerful teaching tool. If the children then get a writing opportunity to use these words, it can help add this new vocabulary to their list of known words.
Working Walls: By including new, topic-specific vocabulary on Working walls, we can give the children an accessible, vocabulary-rich environment. So long as it is not overloaded and is updated regularly, this can be a useful way to embed new vocabulary.
Word organisers: This is an approach that allows children to become responsible for their own collections of new vocabulary and can promote more independence. When a child comes across a new word, they can write it and its definition in a book or 'word organiser'. This could be split into alphabetical order, like a dictionary or, into word classes (adjectives, verbs, nouns etc.) which may lend itself better to practical use. They can then use this book to help them extend their writing.
Axis of intensity: One way to help extend vocabulary could be to encourage the children to find and order synonyms in terms of their intensity. It is proven that categorising words is a key way that children can learn new vocabulary. This is also a good way to encourage children to increase the quality of their word choices. Another similar strategy is called 'Meaning lines': By choosing two words like 'lay' and 'stand' and putting them on either side of a line, the children can add words in between to convey shades of meaning. For example: crouch, hunch, stoop, squat.
Raving Readers: Children who have few books at home are less likely to have a wide range of vocabulary to draw upon. It is then important that children can take books home from school and that they are encouraged to read these at home. Reading challenges like 'Raving Readers' can help to encourage reading at home and prioritise language acquisition. Other, similar reading challenges are'40 Book Challenge' or 'The Million Word Challenge'.
Bibliography
Mandy J. Maguire, et. al., "Vocabulary knowledge mediates the link between socioeconomic status and word learning in grade school," Journal of Experimental Child Psychology (February 2018).
Shareen Mayers, Article: "What can we learn from the 2017 KS2 reading and grammar test?" RSAssessment, Hodder Education (May 2017)
Alex Quigley, 'Closing the vocabulary gap' ,Taylor & Francis Ltd , Routledge, 2018
Improving Literacy in KS2 – Education Endowment Foundation Guidance Report : http://bit.ly/2xKUKHf, by the Education Endowment Foundation.
Anne E. Cunningham and Keith E.Stanovich, What Reading Does for the Mind: http://bit.ly/1s7ks0J
Oakhill et. al., Understanding & Teaching Reading Comprehension,