Welcome to primary school: What is successful transition?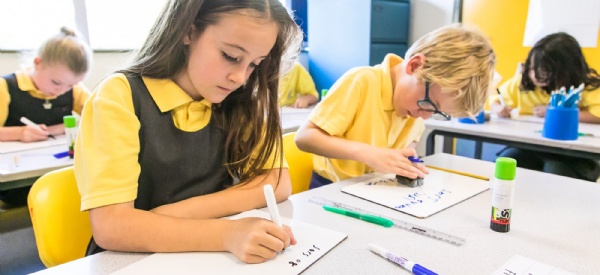 Imagine that one day you turn up to work but the building is much bigger, you have a new boss, you have a new set of co-workers and you have no idea what to do or where to go. How would that make you feel? This is the same situation that the four-year-old children in our schools find themselves in on their first day of school…
Why is transition important?
Over the last thirty years, there has been a wealth of evidence surrounding how children react to changes in their lives and the long-term effects this can have on their psychological well-being. Early childhood experiences shape our future selves and the way we think and react to different situations. Therefore, if we have negative experiences of change when we are younger, we are less likely to have a positive outlook towards it in the future. So how can we help foster a positive experience of change for the children in our care? This question forms the basis of any successful transition.
If a child has a negative experience of transition, it can cause them to be distressed, anxious and have feelings of a lack of control. This can then affect a child's emotional and behavioural development, which can then have impacts on their psychological and intellectual development. It is these effects that the transition processes in school seek to diminish.
What is the evidence?
There are several different types of transition that a child goes through from Emotional Transition (e.g. a bereavement or the divorce of their parents) to Physical Transition (e.g. moving to a new home). The focus of this blog however is on Intellectual Transition (moving from one organisation to another, in this case from Nursery to Reception class).
In a research report published by the Department of Education in 2017, a team of researchers from NatCen Social Research explored how good and outstanding early-years settings supported the children in their care to achieve excellent outcomes. In regard to successful transition, they found that one of the most important aspects of transition was to help the child become acquainted with their new teachers prior to their first day in school. One key finding was that successful home visits and establishing a 'friendly face' had a large effect on how well the children coped with their first day at school. One of the participants from the study was quoted as saying, 'We believe we have less children crying and upset now. Because they know that their key worker has talked to mummy, they've been to their house, they've read them a story, they've taken the toys, and that when they start, that key worker then talks to the parents, talks to the child, takes photographs of the family, and builds up a relationship with that child.' In addition, the study also found that having a 'Key Worker' attached to each child had a positive impact on transition, as the children knew who the person was that they could go to if they were upset or worried.
In addition to this, in a case study produced by Tower Hamlets (2018), they identified successful parental involvement as essential for effective transition. The case study centered around a parent who was nervous about their child starting school and was unsure about how to help him. Through home visits; allowing the parent to come into school with the child; and effective communication, the parent was able to consistently give the child the same positive messages as the teachers about the move and this enabled the child to feel more secure about stepping into the unknown.
7 things we can do to help children transition into Primary School
Transition days/ weeks
Allowing the children to visit the setting, prior to their first day in school is considered essential to successful transition. It helps the children to become familiar with the new change before it comes into action and supports them to feel more control about the situation. One strategy is to invite children for multiple short visits, perhaps attending the Autumn festival, Christmas, Eid or Easter celebrations. Or inviting them to summer sports/ activity days. It is also possible to reverse this process, with teachers visiting children in their current setting.
Home Visits
Home visits, if purposeful, can have a great impact on a child's transition into primary school. They help to provide the children with a friendly, familiar face when they first arrive, and provide the opportunity for parents to ask questions in a more informal context. They also allow the teacher to collect information about the children who will be in their class, providing the opportunity for initial assessment of a child's needs and interests. This can be used to help structure the curriculum. In addition to this, a home visit provides the first link for the child between home and school, which can be comforting and help the children to feel protected.
Good relationships and sharing of information
Having good relationships with the surrounding nurseries is an important aspect of successful transition. To be most effective, this relationship should exist between colleagues beyond the teaching staff (including the admin team, community team and senior leadership team). It is important that this relationship exists throughout the year, not just during transition. These relationships have a number of advantages for effective transition, including the sharing of accurate, useful information, the organisation of transition events and sharing of good practice across the organisations.
Parental support
For many parents, this will be their first time supporting a child through transition in to primary school. Therefore, some parents need additional support through this transitional time; they might not realise that there are a number of key differences between a private nursery and a maintained school setting, and some might have difficulty understanding this. Consequently, school community teams have an important role in explaining the processes involved with school life. Community teams that act early to support parents and make time to work with the families have a great impact on the ease of transition. They can help to encourage the parents to develop their children's independence skills and maintain consistent messages about school that the children can understand.
Settling-in period
Many schools employ a strategy known as the 'settling-in period'. They use a gradual approach to transition, slowly increasing the time that the children attend the setting. This strategy has several advantages as it is adaptive to the individual child's needs and gives the children the added comfort, at first, of knowing that the are only there for a short period of time. Using a staggered entry approach, allowing a small group of children to start each day, can help to give each group more individualised attention, which can help to support relationships and give the children the opportunity to become accustomed to the setting in a less intimidating environment. In addition to this, some schools allow the parents to stay for a short time to help their children settle in. This is easier with a staggered entry approach.
Consistency and routines
Consistency is important for children throughout school, however, during transition and the first few months of primary school, it is proven to be essential for children's well-being. Through consistent rules, routines and expectations, the children are able to quickly understand what to expect and what is expected of them, which in turn reduces anxiety and can enable them to feel an element of control over situations. Furthermore, it is in these early stages of primary school that the expectations are set for the rest of their school lives, which means that a consistent approach early in reception, can have a long-term positive impact on a child's learning behaviours. One way that many schools help to support routines and consistency is through the use of a visual timetable. This helps children understand what is happening next, which can also reduce anxiety.
Having a 'key person'
Having a 'key person' assigned to each child is a popular strategy used by schools to ensure that the needs of all the children are met. By allocating an adult to each child, they are able to support each child by spending time with them and providing comfort and reassurance regarding transition. The children also know who they can speak to if they need something. Good practice is to be flexible when assigning 'key people' to work with children and changing the 'key person' if a child is bonding with a particular member of staff.
Bibliography
Arndt, A. K., A. Rothe, M. Urban, and R. Werning. 2013. "Supporting and Stimulating the Learning of Socioeconomically Disadvantaged Children – Perspectives of Parents and Educators in the Transition from Preschool to Primary School." European Early Childhood Education Research Journal 21: 23–38. doi:10.1080/1350293X.2012.760336
Callanan M, Anderson, M, Haywood, S, Hudson, R, and Speight, S. 2017. Supporting Transition. In: GSR (government social research) ed. Study of Early Education and Development: Good Practice in Early Education. United Kingdom: The Department of Education, pp. 39 – 45
Cassidy, M. 2005. "They Do It Anyway': A Study of Primary 1 Teachers' Perceptions of Children's Transition into Primary Education." Early Years 25: 143–153. doi:10.1080/09575140500127923
Pandis, M. 2001. "School Readiness or School's Readiness?" Thinking Classroom: International Reading Association and Open Society Institute 3: 23–28.
Smith, H. 2017. Childcare Expo -Where early years means business . 31st August. Transitioning From Nursery: School-Ready Or Ready Schools?. [Online]. [21 February 2019]. Available from: https://www.childcareexpo.co.uk/transitioning-nursery-school-ready-ready-schools
Tower hamlets. 2018. Moving On: Supporting Children's Transitions in the Early Years. Tower Hamlets Early Years. Useful practitioner resources